LaMia Flight 2933 was a charter flight of an Avro RJ85, operated by LaMia, that on 28 November 2016 crashed near Medellín, Colombia, killing 71 of the 77 people on board. The aircraft was transporting the Brazilian Chapecoense football squad and their entourage from Santa Cruz de la Sierra, Bolivia, to Medellín, where the team was scheduled to play at the 2016 Copa Sudamericana Finals. One of the four crew members, three of the players, and two other passengers survived with injuries.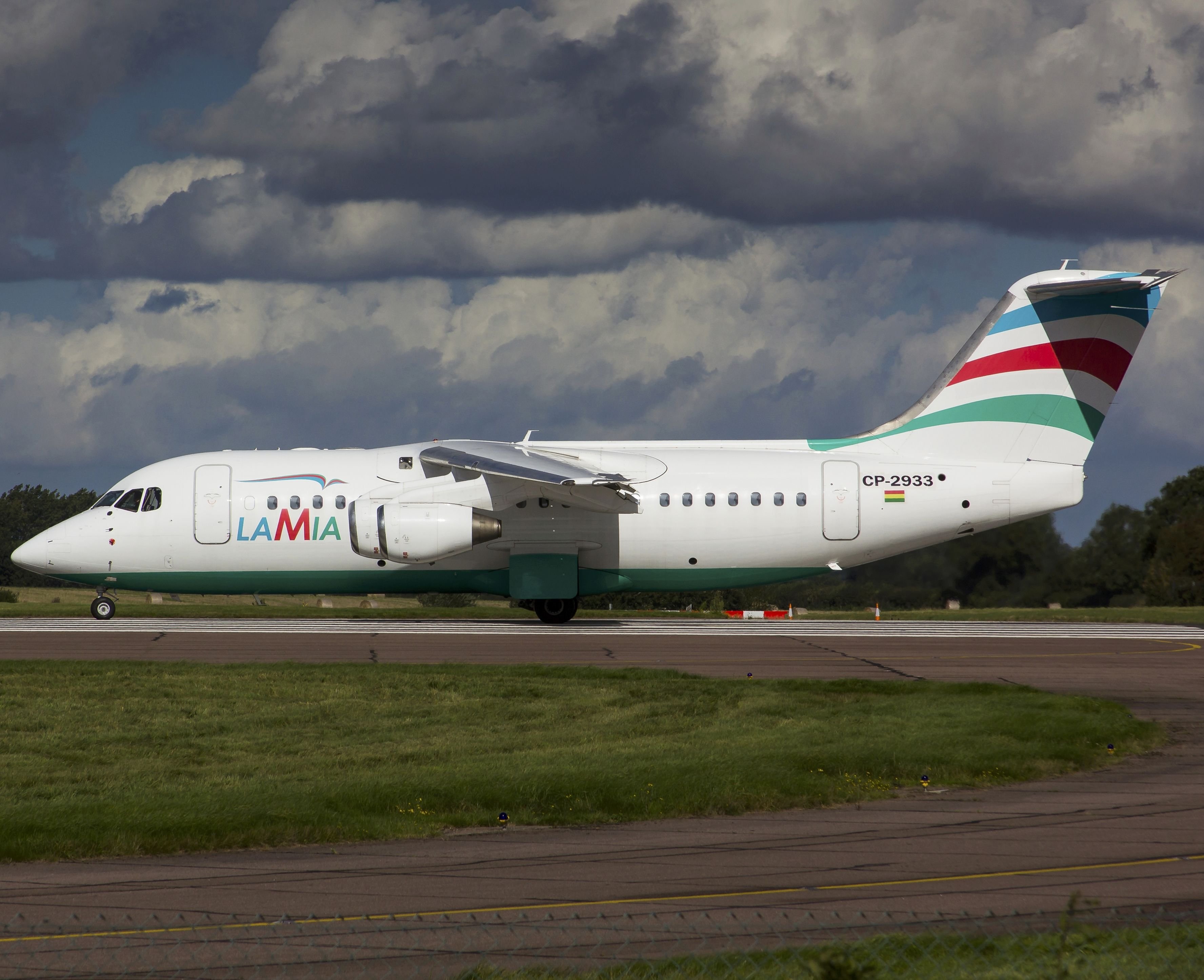 The official report from Colombia's civil aviation agency, Aerocivil, found the causes of the crash to be fuel exhaustion due to an inappropriate flight plan by the airline, and pilot error regarding poor decision making as the situation worsened, including a failure to declare an emergency after fuel levels became critically low, thus failing to inform air traffic control at Medellin that a priority landing was required.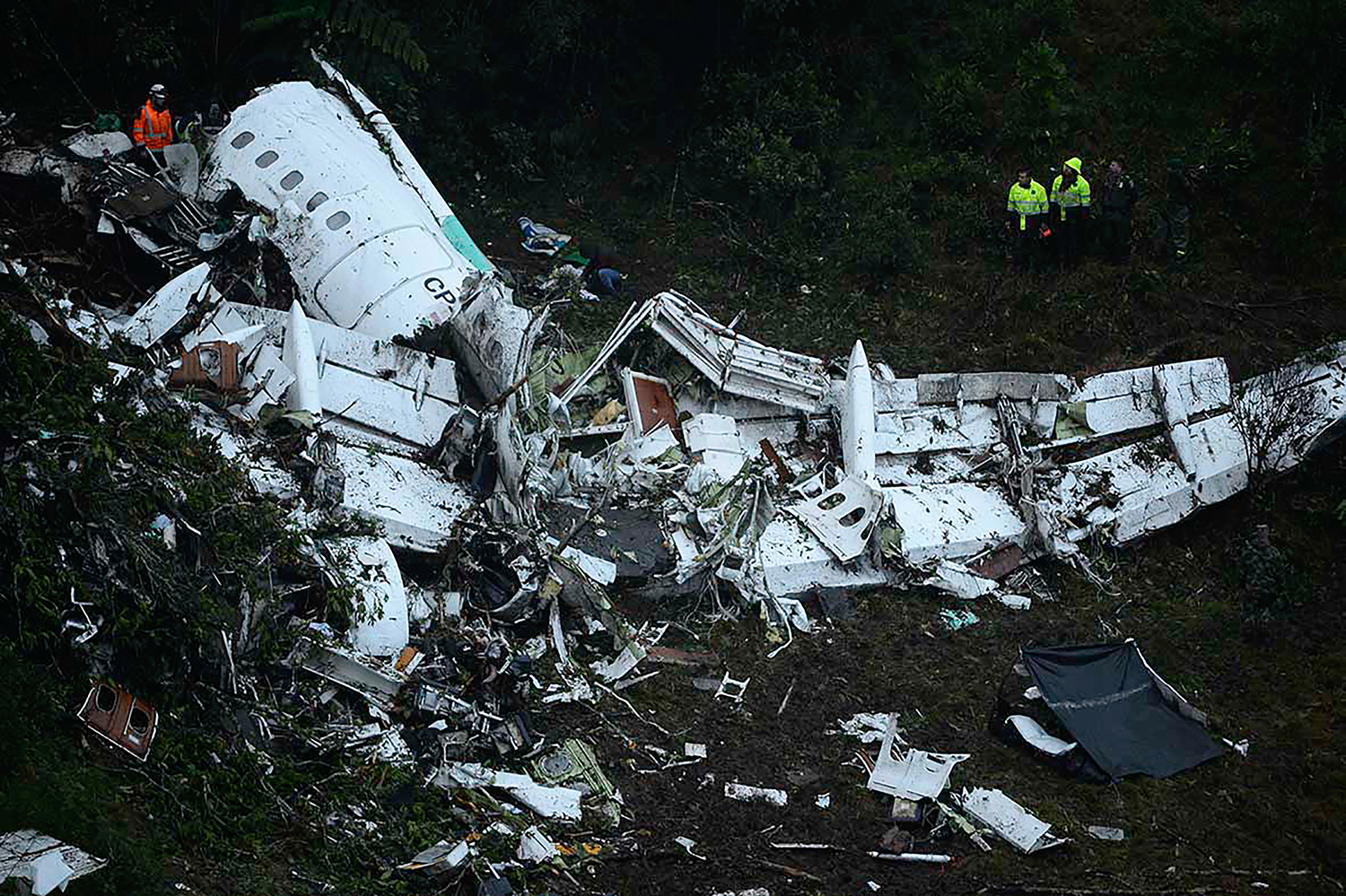 Flight and crash
The party flew with a different airline from São Paulo to Santa Cruz, where it boarded the LaMia aircraft. The refuelling stop at Cobija was cancelled following a late departure from Santa Cruz.
The aircraft was carrying 73 passengers and four crew members on a flight from Viru Viru International Airport, in the Bolivian city of Santa Cruz de la Sierra, to José María Córdova International Airport, serving Medellín in Colombia, and located in nearby Rionegro. Among the passengers were 22 players of the Brazilian Associação Chapecoense de Futebol club, 23 staff, 21 journalists, and two guests. The team was travelling to play their away leg of the Final for the 2016 Copa Sudamericana in Medellín against Atlético Nacional.
Background and transit to Bolivia
Chapecoense's initial request to charter LaMia for the whole journey from São Paulo to Medellín was refused by the National Civil Aviation Agency of Brazil because the limited scope of freedom of the air agreements between the two countries, under International Civil Aviation Organization rules, would have required the use of a Brazilian or Colombian airline for such a service. The club opted to retain LaMia and arranged a flight with Boliviana de Aviación from São Paulo to Santa Cruz de la Sierra, Bolivia, where it was to board the LaMia flight. LaMia had previously transported other teams for international competitions, including Chapecoense and the Argentina national team, which had flown on the same aircraft two weeks before. The flight from São Paulo landed at Santa Cruz at 16:50 local time.
Flight from Santa Cruz
The RJ85 operating LaMia flight 2933 departed Santa Cruz at 18:18 local time. A Chapecoense team member's request to have a video game retrieved from his luggage in the aircraft's cargo delayed departure. The original flight plan included an intermediate refueling stop at the Cobija–Captain Aníbal Arab Airport, near Bolivia's border with Brazil; however, the flight's late departure meant the aircraft would not arrive at Cobija prior to the airport's closing time. An officer of Bolivia's Administración de Aeropuertos y Servicios Auxiliares a la Navegación Aérea (AASANA – Airports and Air Navigation Services Administration) at Santa Cruz de la Sierra reportedly rejected the crew's flight plan for a direct flight to Medellín several times despite pressure to approve it, because of the aircraft's range being almost the same as the flight distance. The flight plan was approved by another AASANA officer. The distance between Santa Cruz and Medellín airports is 1,598 nautical miles (2,959 km; 1,839 mi).[26] A fuel stop in Cobija would have broken the flight into two segments, an initial segment of 514 nautical miles (952 km; 592 mi) to Cobija followed by a flight of 1,101 nautical miles (2,039 km; 1,267 mi) to Medellín, a total of 1,615 nautical miles (2,991 km; 1,859 mi). Bogotá's airport is 1,486 nautical miles (2,752 km; 1,710 mi) from Santa Cruz's airport and 116 nautical miles (215 km; 133 mi) from Medellín's.
The flight crew anticipated a fuel consumption of 8,858 kg for their planned route of 1,611 nmi (including 200 kg for taxiing). After refueling at Santa Cruz, CP2933 had 9,073kg on board. ICAO regulations would have required them to carry a total fuel load of 12,052 kg, to allow for holding, diversion, and other contingencies. The RJ85's fuel tanks have a capacity of 9,362 kg.
Around 21:16, about 180 nmi from their destination, the aircraft displayed a low-fuel warning. At this point, they were 77 nmi from Bogotá, but the crew took no steps to divert there, nor to inform ATC of the situation. The RJ85 continued on course and began its descent towards Medellín at 21:30.
Another aircraft had been diverted to Medellín from its planned route (from Bogotá to San Andres) by its crew because of a suspected fuel leak. Medellín air traffic controllers gave that aircraft priority to land and at 21:43 the LaMia RJ85's crew was instructed to enter a racetrack-shaped holding pattern at the Rionegro VHF omnidirectional range (VOR) radio navigation beacon and wait with three other aircraft for its turn to land. The crew requested and were given authorisation to hold at an area navigation (RNAV) waypoint named GEMLI, about 5.4 nautical miles (10 km; 6 mi) south of the Rionegro VOR. While waiting for the other aircraft to land, during the last 15 minutes of its flight, the RJ85 completed two laps of the holding pattern. This added approximately 54 nautical miles (100 km; 62 mi) to its flight path. At 21:49, the crew requested priority for landing because of unspecified "problems with fuel", and were told to expect an approach clearance in "approximately seven minutes". Minutes later, at 21:52, they declared a fuel emergency and requested immediate descent clearance and "vectors" for approach. At 21:53, with the aircraft nearing the end of its second lap of the holding pattern, engines 3 and 4 (the two engines on the right wing) flamed out due to fuel exhaustion; engines 1 and 2 flamed out two minutes later, at which point the flight data recorder (FDR) stopped operating.
Shortly before 22:00 local time on 28 November (03:00 UTC, 29 November), the pilot of the LaMia aircraft reported an electrical failure and fuel exhaustion while flying in Colombian airspace between the municipalities of La Ceja and La Unión. After the LaMia crew reported the RJ85's electrical and fuel problems, an air traffic controller radioed that the aircraft was 0.1 nautical miles (190 m; 200 yd) from the Rionegro VOR, but its altitude data were no longer being received. The crew replied that the aircraft was at an altitude of 9,000 feet (2,700 m); the procedure for an aircraft approaching to land at José María Córdova International Airport states it must be at an altitude of at least 10,000 feet (3,000 m) when passing over the Rionegro VOR. Air traffic control radar stopped detecting the aircraft at 21:55 local time as it descended among the mountains south of the airport.
At 21:59 the aircraft hit the crest of a ridge on a mountain known as Cerro Gordo at an altitude of 2,600 metres (8,500 ft) while flying in a northwesterly direction, with the wreckage of the rear of the aircraft on the southern side of the crest and other wreckage coming to rest on the northern side of the crest adjacent to the Rionegro VOR transmitter facility, which is in line with runway 01 at José María Córdova International Airport and about 18 kilometres (9.7 nmi; 11 mi) from the southern end.
DOWNLOAD the full Accident Report
(CVR transcript starts on page 97)