United Express / Great Lakes Flight 5925/5926, registration N87GL, took off from Chicago at 15.25 with a delay of some 3 hours. After an intermediate stop at Burlington, the Beechcraft 1900 took off again for Quincy at 16.40 local time. As the Beechcraft was approaching Quincy, two aircraft were ready for departure. Beechcraft King Air 65-A90 (N1127D) and Piper Cherokee N7646J were taxiing to runway 04.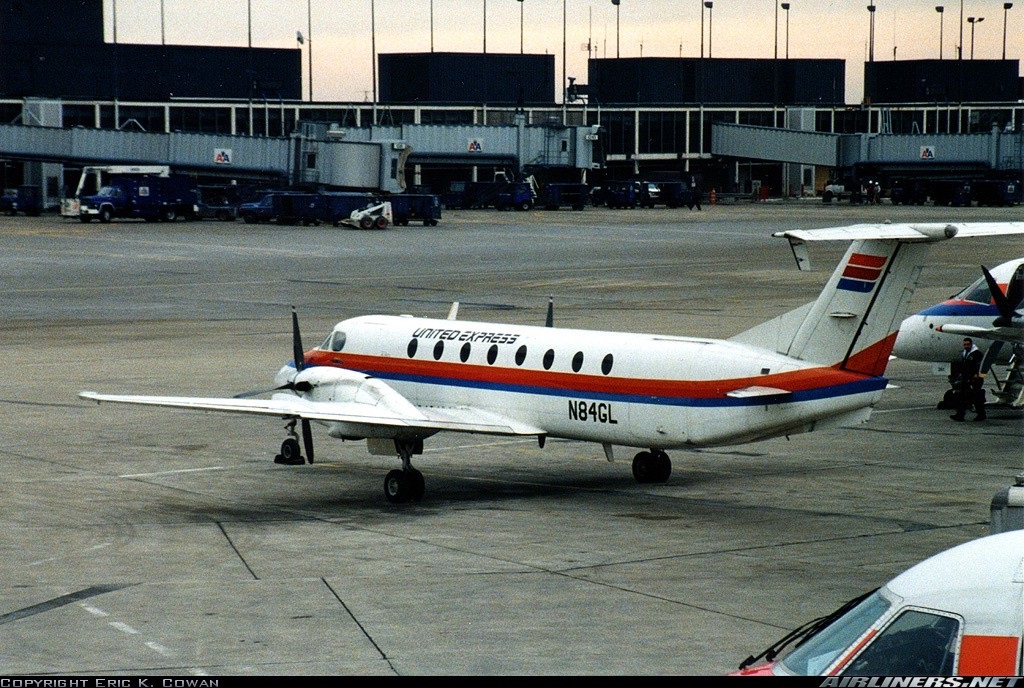 Since Quincy is an uncontrolled airport, all 3 aircraft used a common traffic advisory frequency (CTAF). The United Express crew asked for the first time whether the King Air was holding short or was going to depart at 16.59:29h. The King Air crew didn't respond, so the King Air was asked again if they were holding short, at 17.00:16. This time the Cherokee pilot responded he was holding short of runway 04. Because of the GPWS 200ft altitude warning in the Beech 1900 cockpit, just the last part of the transmission, including the words "King Air" were heard. Probably thinking the King Air was holding short, the United Express crew continued their approach to runway 13. The King Air however, had taxied onto the runway and had started it's take-off roll when the Beech 1900 touched down.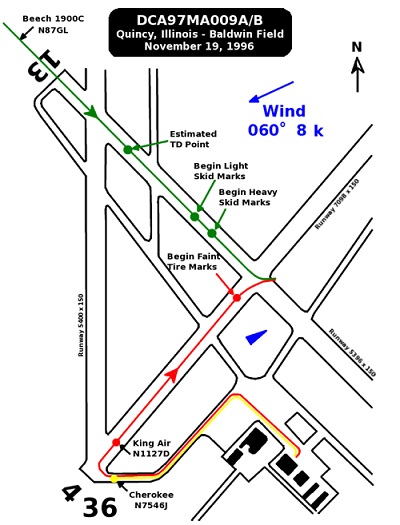 A collision took place at the runway 04/13 intersection. Both aircraft skidded for 110ft and came to rest along the east edge of runway 13 with the Beech 1900's right wing interlocked with the left wing of the King Air. Both aircraft caught fire immediately. Three pilots witnessed the accident and rushed to the scene. With the right side of the Beech 1900 on fire, they went to the right side and saw the captain with her head and one arm out of the window, shouting "get the door open!". Several attempts to open the door failed until the left wing buckled, causing the nose wheel and cockpit to fall to the right. Attempts by passengers to open the door from the inside had also failed.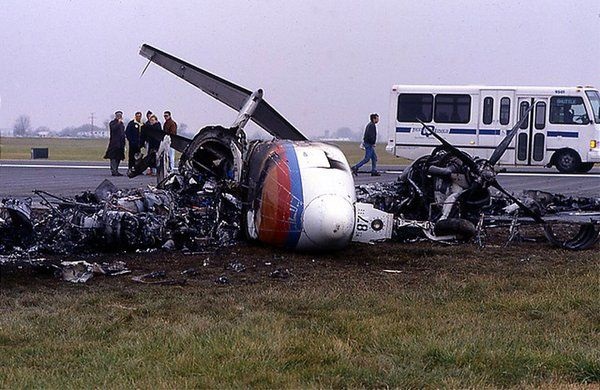 Download the full NTSB report
---
Transcript of the Cockpit Voice Recorder (CVR)
4:52:07CAPT sent a radio transmission on the common traffic advisory frequency, stating the plane was about 30 miles north of the airport and would be landing on runway 13. She asked for any other traffic in the area to acknowledge their presence.
4:52:19COP: "OK, cruise if you want. "
4:54:56CAPT: "Look at that sunset man, that's gorgeous."
4:55:19KING AIR: "Quincy traffic, King Air ... taxiing out uh, takeoff on runway four, Quincy."
4:55:26COP: "Sounds like a little kid."
4:55:40CHEROKEE sent a radio transmission to say his plane was taxiing to runway four.
4:55:48CAPT: "They're both using four"
4:56:13COP said the airfield was in sight
4:56:16"Okeydoky." She then asked the COP if they were still planning on using runway 13.
4:56:46"Yeah, unless it doesn't look good then we'll just do a downwind for four. But, uh, right now plan one-three."
4:56:56CAPT sent a radio transmission, saying the plane was 10 miles north of the airport. Again, she requested that any other traffic in the area advise them of their presence.
4:57:20 to 4:58:32Standard checklist for landing performed
4:59:03KING AIR: "Quincy traffic, King Air 1127D holding short of runway four ... [will] be takin' the runway for departure and heading uh, southeast Quincy."
4:59:13CAPT: "Does sound little doesn't she?"
4:59:18CAPT: "She's takin' runway four right now?"
COP: "Yeah."
4:59:29CAPT announced that her plane was about to turn a five-mile final for runway 13 and asked if the King Air was going to hold on the runway or depart.
5:00:16CAPT "Quincy traffic, Lakes Air 251's on short final for Runway 13, the aircraft gonna hold in position on Runway 4 or yoy guys gonna take-off?"
5:00:28CHEROKEE said he was holding on runway four.
[part of the transmission was interrupted by the GPWS 200ft altitude alert in the United Express plane. The cockpit voice recorder caught the last part of the transmission with words that included "King Air."]
5:00:35CAPT: "OK, we'll, we'll get through your intersection in just a second sir . . . we appreciate that. "
5:00:42CAPT confirmed that the landing gear was down and 'finals are complete"
5:00:48CAPT: "We kinda .... "
COP: "Kinda what?"
CAPT: "We kinda fudged, in there a little. "
5:00:59Touchdown
5:01:01CAPT: "Max reverse."
CAPT: "Oh (expletive). "
5:01:03COP: "What, oooh (expletive)."
5:01:07
COP: "Oh (expletive) me."