Westwind N61RS originated from Las Vegas at 13:53 and was destined for Taos to pick up a passenger. After passing the initial approach fix, during an instrument approach to the destination airport, controllers heard a "MAYDAY" radio call and radar contact was lost with the airplane at an altitude of 14,700 feet msl radar.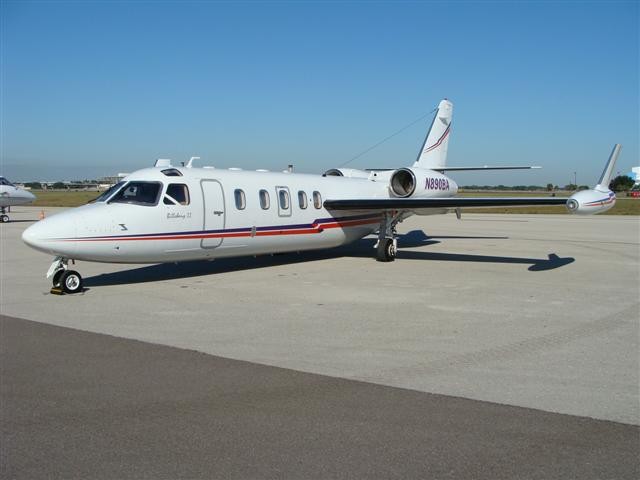 One witness reported hearing "distressed engine noises overhead," and looked up and saw what appeared to be a small private jet flying overhead. The engine seemed to be "cutting in and out." The witness further reported observing the airplane in a left descending turn until his view was blocked by a ridge. The witness then heard an explosion and saw a big cloud of smoke rising over the ridge. A second witness heard a loud noise and looked up and saw a small white airplane with two engines. The witness stated that the airplane started to turn left with the nose of the airplane slightly pointing toward the ground. The airplane appeared to be trying to land on a road. A third witness heard the roar of the airplane's engines, and looked toward the noise and observed the airplane in a vertical descent (nose dive) impact the ground. The witness "heard the engines all the way to the ground."
Examination of the airframe and engines did not disclose any structural or mechanical anomalies that would have prevented normal operation. The National Weather Service had issued a SIGMET for severe turbulence and mountain wave activity. Satellite images depicted bands of altocumulus undulates and/or rotor clouds over the accident site.
Probable cause: The pilot's inadvertent flight into mountain wave weather conditions while IMC, resulting in a loss of aircraft control.
Download the NTSB Final Report.
---
Transcript of the Cockpit Voice Recorder (CVR)
Legenda
CPT= Voice identified as Captain
FO= Voice identified as First Officer
HOT= Hot microphone
CAM= Cockpit area microphone
ARTCC= Albuquerque ARTCC
#= expletive
| time | source | content |
| --- | --- | --- |
| 14:55:29 | FO | Flaps twenty. |
| 14:55:30 | HOT | [sounds similar to pitch trim activation tone] |
| 14:55:34 | HOT | [sounds similar to pitch trim activation tone] |
| 14:55:36 | FO | Oh, boy. |
| 14:55:47 | HOT | [sounds similar to pitch trim activation tone] |
| 14:55:52 | FO | Surprise surprise surprise huh. |
| 14:55:56 | HOT | [sounds similar to 2 pitch trim activation tone] |
| 14:55:58 | FO | It's gunna be commin' in. |
| 14:55:59 | HOT | [sounds similar to 5 pitch trim activation tone] |
| 14:56:05 | CPT | Gear down. |
| 14:56:08 | FO | Yup. |
| 14:56:09 | HOT | [sounds similar to pitch trim activation tone] |
| 14:56:09 | HOT | [sounds similar to pitch trim activation tone] |
| 14:56:10 | FO | Here it goes. |
| 14:56:11 | CAM | [sound of landing gear being lowered] |
| 14:56:12 | HOT | [sounds similar to pitch trim activation tone] |
| 14:56:13 | HOT | [sounds similar to pitch trim activation tone] |
| 14:56:13 | HOT | [sounds similar to pitch trim activation tone] |
| 14:56:14 | HOT | [sounds similar to pitch trim activation tone] |
| 14:56:16 | HOT | [sounds similar to pitch trim activation tone] |
| 14:56:18 | HOT | [sounds similar to pitch trim activation tone] |
| 14:56:19 | HOT | [sounds similar to pitch trim activation tone] |
| 14:56:19 | FO | It's gunna go through. |
| 14:56:21 | HOT | [sounds similar to pitch trim activation tone] |
| 14:56:22 | HOT | [sounds similar to 2 pitch trim activation tone] |
| 14:56:26 | HOT | [sounds similar to pitch trim activation tone] |
| 14:56:30 | FO | Do I have to shoot a procedure turn. |
| 14:56:33 | CPT | Ah #. I don't know. probably should. |
| 14:56:37 | FO | Wanna make one spin that'll be it.. |
| 14:56:38 | CPT | yeah. |
| 14:56:38 | FO | I don't.. |
| 14:56:39 | HOT | [sounds similar to 5 pitch trim activation tones in short succession] |
| 14:56:41 | CPT | #. |
| 14:56:41 | FO | Oh # what's that. |
| 14:56:42 | CPT | #. |
| 14:56:44 | CPT | Power. |
| 14:56:45 | FO | Full power. |
| 14:56:47 | CPT | Ah # [strained voice]. |
| 14:56:48 | CAM | [sound of wind noise starts to increase until end of recording] |
| 14:56:50 | CAM | [sound of strained breathing and grunting starts and continues until end of the recording] |
| 14:56:51 | FO | Come on around. |
| 14:56:52 | GPWS | Bank angle. |
| 14:56:52 | CPT | Holy #. |
| 14:56:53 | GPWS | Bank angle. |
| 14:56:53 | FO | Mayday, mayday, mayday, mayday, mayday. |
| 14:56:53 | GPWS | Caution, terrain terrain terrain. |
| 14:57:04 | ARTCC | Aircraft calling say again. |
| 14:57:05 | FO | Unload it unload it. |
| 14:57:08 |   | End of the recording. |