GP Express Airlines Flight 861, from Hartsfield-Jackson International Airport in Atlanta, Georgia to Anniston Metropolitan Airport in Anniston, Alabama, crashed while attempting to land at approximately 8:04 a.m. CDT on June 8, 1992. The Beechcraft Model 99, registration N118GP, had four passengers and a crew of two on board. There were three survivors. Two passengers and the captain received fatal injuries.
GP Express Flight 861 was to operate from Atlanta to Tuscaloosa, Alabama with an intermediate stop in Anniston. The flight was operated as a Department of Transportation Essential Air Service (EAS) flight. In Atlanta, four passengers and six bags were loaded on the fifteen passenger aircraft for the flight. During the flight, intercom problems created difficulty in communication between the crew, additionally the crew encountered problems with a battery and autofeather system. As the flight approached Anniston, confusion developed in the cockpit regarding the aircraft's position and correct course to Anniston. While a visual approach was considered, visual conditions necessitated an instrument landing system approach to Runway 5 at Anniston.
After being cleared by air traffic control for the instrument landing system (ILS) approach to runway 5 at Anniston, the flight crew turned the airplane toward the north away from the airport in the erroneous belief that the airplane was south of the airport. The flight crew did not perform the maneuvers specified on the approach chart, which required flying outbound from the airport, then performing the "procedure turn" back toward the airport. The investigation determined that in actuality, the airplane had intercepted the back course localizer signal for the ILS approach, and the flight crew had commenced the approach at a high airspeed about 2,000 feet above the specified altitude for crossing the final approach fix. The airplane continued a controlled descent until it impacted terrain.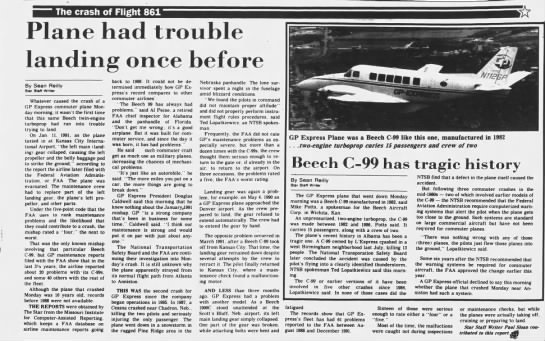 Download the full NTSB report
---
Transcript of the Cockpit Voice Recorder (CVR)
Legenda: RDO Radio transmission from accident aircraft
CAM Cockpit Area Microphone sound or source
PA Aircraft Public Address sound or source
INT Flight Crew Intercom sound or source
HOT Flight Crew Hot Microphone sound or source
-1 Voice identified as Captain
-2 Voice identified as First Officer
-? Voice unidentified
TWR Atlanta Hartsfield Local Controller (tower)
DEP Atlanta Hartsfield Departure Controller
CTR Atlanta Center Controller
APP Birmingham Approach Controller
COMP GP Express Company Operations (Atlanta)
UNK Unknown source
* Unintelligible word
@ Nonpertinent word
# Expletive deleted
% Break in continuity
() Questionable text
(()) Editorial insertion
- Pause
Notes: All times are expressed in central daylight savings time. All times were derived from the Birmingham Approach ATC recording. only radio transmissions involving the accident aircraft were transcribed.
0819:51 ((start of recording))
0819:31
CAM-2 okay. exteriors?
0819:34
CAM-1 okay, landing light's comin' on.
0819:39
CAM-2 battery * cabin temp *. auto-ignition?
0819:43
CAM-1 **.
0819:45
CAM-1 should be all complete except the
0819:46
CAM-2 auto-ignition.
0819:48
CAM-1 auto ignition.
0819:51
CAM-2 and the time we'll be out of hbre
twenty three. geese LoUiSe.
0820:03
CAM-1 a little late on that, huh.
0820:11
CAM-1 *
0820:12
CAM-2 * behind us.
0820:14
CAM-1 wonder if there's any other way you
could of gotten out of here. do we have
any options on our?
0820:16
CAM-2 negative. no other way.
0820:19
CAM-2 this, get use to this I mean this I I
this doesn't bug me.
0820:22
CAM-2 look at the bright side. with the
hourly pay scale your
0820:25
CAM-1 jingle jingle jingle.
0820:27
CAM-2 learn to play the game dude. I mean
it's customer service. there's nothing
we can do about this.
0820:38
CAM-2 go ahead and get the auto-ignition on
that'll be good.
0820:44
TWR Regional Express eight sixty one runway two seven right taxi into position and hold.
0820:47
RDO-2 assume the position eight sixty one.
0820:51
CAM-1 look at that stuff come out of there.
0820:53
CAM-2 YUP.
0820:54
CAM-2 okay.
0820:56
CAM-1 so bring the power in, go to idle on
the ah number two cut-off.
0820:59
CAM-2 here it comes. no not cut-off.
0821:03
CAM-1 or ah idle.
0821:04
CAM-2 I know what you mean.
0821:05
CAM-1 you know what I meant.
0821:11
CAM-1 boy feel that?
0821:12
CAM-2 yup, that's why I give lem plenty of
time.
0821:22
CAM-1 okay landing light's. everything is
good. We'll be goin for nav lights
also and strobes once we're in-flight.
0821:28
CAM-2 that's right.
0821:31
CAM-2 everything pretty well matched up.
everything's kosher here we go.
0821:34
CAM-1 and we'll climb well above his climb
path.
0821:43
CAM-1 probably one nin-.
0821:44
TWR Regional Express eight sixty one on departure fly heading one niner zero runway two seven right cleared for takeoff.
0821:49
RDO-2 left to one nine zero cleared for takeoff regional eight sixty one. thank you.
0821:52
CAM-2 okay away we go.
0821:56
CAM-2 lights are out. they're on.
0821:58
CAM-2 both of them are on. cool.
0822:01
CAM-2 through fourteen. I'll trim out.
0822:03
CAM-1 thank ya.
0822:10
CAM-2 airspeed's alive through eighty.
0822:16
CAM-2 there's Ves one.
0822:19
CAM-2 and two.
0822:21
CAM-2 Stand-by there's blue.
0822:24
CAM-2 positive rate.
0822:28
CAM ((sound of trim-in-motion beeps))
0822:36
TWR Pee correction Regional Express eight sixty one turn left heading one niner zero contact departure.
0822:40
RDO-2 left to one ninety going to departure eight sixty one good day.
0822:51
CAM-2 bring it back a little bit more-.
0823:22
CAM-1 altitude?
0823:23
CAM-2 four thousand.
0823:55
RDO-2 Atlanta departure good morning
Regional Express eight sixty one's with
ya one nine zero on the heading out of
two point four for four thousand.
0824:01
DEP Regional Express eight sixty one Atlanta departure good morning radar contact
maintain four thousand.
0824:06
RDO-2 four thousand eight sixty one.
0824:11
CAM-1 climb check please.
0824:13
CAM-2 gear and flaps?
0824:14
CAM-1 and ah they're up.
0824:16
CAM-2 power props?
0824:19
CAM-1 they're set.
0824:20
CAM-2 prop sync?
0824:21
CAM-1 comin, on.
0824:22
CA14-2 engine gauges?
0824:27
CAM-1 chocked.
0824.29
CAM-2 water-meth didn't use. auto-feather?
0824-3O
CAM-1-1 auto-feather's off. they're both
workin' again.
0824:35
CAM-2 YUP-
0824:37
CAM-2 somthin' must just been doin' drugs on
us this morning. okay, lights?
0824:42
CA14-1 taxi off. strobels on.
0824:46
CAM-2 battery's still given us fits.. and
we're climbin'.
0824:51
CAM-2 comin' up on a thousand to go your
side.
0826:05
DEP Regional Express eight sixty one
turn right heading two six zero.
0826:08
RDO-2 right to two six zero eight sixty
one.
0826:16
RDO-2 hello Atlanta GP Express eight sixty
one
0826:24
COMP GPA eight sixty one go ahead.
0826:27
RDO-2 yeah ah are we Suppose to give you
our out times?
0826:30
COMP please pretty please.
0826:32
RDO-2 okay ah since you talked me into it
howls one two five five and one
three two three sound to ya.
0826:40
COMP okay one two five five and one three
two three.
0826:45
RDO-2 that's right. they're stacked up out
here. talk to you later
0826:48
COMP have a good one.
0827:31
CAM-2 cruise power. props?
0827:32
CAM-1 set.
0827:33
CAM-2 engine gauges?
0827:35
CAM-1 checked.
0827:37
CAM-2 battery?
0827:42
CAM-1 off, I'll leave it off.
0827:45
CAM-2 sounds good. interiors exteriors?
interiors are on. exteriors?
0827:47
CAM-2 you can kick the landing lights Off
that's what we do. you know your call
when ever you want to turn lem off.
0827:52
CAM-1 okay we'll get a little ways away from
here anyway.
0827:57
CAM-2 okay I'm gunna turn this off.
0828:10
DEP Regional Express eight sixty one climb and maintain five thousand fly headin' two seven zero.
0828:18
RDO-2 we're out of four for five thousand two seven zero on the heading eight sixty one.
0830:21
DEP Regional Express eight sixty one fly headin' two eight zero.
0830:35
RDO-2 goin' right to two eight zero ah eight sixty one we're level five thousand.
0830:42
CAM-1 did you make the station call?
0830:44
CAM-2 yeah I already did that.
0830:45
CAM-1 okay.
0830:46
CAM-2 all set.
0833:17
DEP Regional Express eight sixty one climband maintain six thousand.
0833:21
RDO-2 we're out of five for six thousand at this time now ah eight sixty one.
0834:13
CAM-2 I suggest why don't we turn a little bit I'm gunna ask him a little bit southward for weather. this isn't too bad but ah.
0834:21
CAN-1 see how bumpy it is when we get up there.
0834:24
CAM-2 what's that?
0834:45
CAM-1 does it give you level one through six or just tell you if it's level three or greater?
0834:47
CAM-2 I can- just a second.
0834:33
CAM-2 I'm writin' up this damn intercom. okay what did you say again?
0834:37
CAM-1 ah it only flashes if you're level three or greater right?
0834:39
CAM-2 right so you know I'm I'm not worried unless you are I mean.
0834:43
CAM-1 I just soon go through we're already behind.
0834:45
CAM-2 cool with me I mean cause I mean that's what I thought.
0834 : 47
CAM-2 look's like probably nothin' after it.
0835:22
CAM-2 comin' up on a hundred to go your
side.
0835:43
CAM-2 there you go.
0835:56
CAM-1 should be out of this in a minute,
0835:58
CAM-2 yeah.
0936:02
CAM-1 actually it's pretty smooth in here
isn't it.
0836:21
CAM-2 feels kinda good.
0836:24
CAM-1 does this vector intercept an airways?
0836:29
CAM-2 comin' in looks like comin' in real
slow that's probably what h6la doin'.
0838:08
DEP Regional Express eight sixty one contact Atlanta center on* thirty
four ninety five good day.
0839:18
RDO-2 one thirty four ninety five good day Sir.
0638:21 ((Atlanta Center Controller started to be board on the radio channel))
0839:13
CAM-2 amazing when you got the bug smashers
out they can't talk.
0839:24
CAM-2 how would he know.
0839:38
CAM-2 geese LouiSe.
0839:43
CAM-2 I think we got a sucker hole on the
radar.
0839:52
CAM-2 yeah you're okay.
0840:07
CAM-2 this guy's pissin' me off.
0840:53
RDO-2 Atlanta Center Regional Express ,light sixty one'3 with ya six
thousand.
0840:57
CTR Regional Express eight sixty one Atlanta Center roger descent pilot's
discretion maintain five thousand.
0841:04
RDO-2 "PD" to five thousand ah we're out Of six at this time ah eight sixty
one.
0841:10
CTR eight sixty one roger
0841:44
HOT-1 that's Talladega?
0841:54
INT-2 okay ah -- thirty two miles out.
0842:03
INT-1 does he want us to resume own
navigation?
0842:09
INT-2 ah.
0842:10
INT-1 I heard him say that. as far as I'm
concerned I'm still on vectors two
eight zero.
0842:13
INT-2 yeah two eight zerols fine. because
we're on course anyway so let's just hold it.
0842:18
INT-1 yeah but we're slowly drifting off.
0842:22
INT-2 ah but turn that zero eight five to
the course.
0842:28
INT-1 what's the course'
0842:29
INT-2 zero eight five inbound.
0842:32
INT-1 you mean zero six five?
0842:33
INT-2 zero eight five.
0842:38
INT-2 zero eight five.
0842:39
INT-1 then we're way off course.
0842:43
INT-2 east is zero nine zero.
0842:44
CTR Regional Express eight sixty one radar service is terminated contact
Birmingham approach one two five point four five.
0842:52
RDO-2 one two five point four five for Birmingham ah so long
0843:03 ((Birmingham Approach Controller was started to be heard on the radio))
0843:05
INT-2 you want to do the approach?
0843:07
INT-1 yes -- and in-rahge.
0843:10
INT-2 stand-by.
0843:16
INT-2 there's our altitude. comin' up on it.
0843:18
INT-1 okay.
0843: 19
RDO-2 Birmingham approach good morning Regional Express eight sixty one's
with ya five thousand..
0843:25
APP Regional Express eight sixty one Birmingham roger ah standby just a
moment.
0843:42
APP Regional Express eight sixty one descend and maintain four thousand
and ah continue direct Talladega if You're unable to get the ah Anniston
airport in sights expect ah no delay for the ILS five from over Bogga.
There is an area of weather southwest of Bogga on the final
approach course about ah four to five miles. Anniston's reporting
fifteen hundred scattered estimated ceiling one zero thousand broken
visibility five with light rain fog and haze the wind is zero six zero
at six altimeter three zero zero six.
0844:13
RDO-2 okay we're out of five thousand at this time for four thousand for the
possible visual and ah if we don't see it we'll let you know for the
ILS eight sixty one thank you.
0844:26
INT-1 okay.
0844:27
INT-2 I'm gettin' you all dialed in standby.
0844:32
INT-2 the outer marker is located in there
there's you marker beacon is ah it's on.
0844:38
RDO sound of beacon test tone)).
0844: 42
INT-1 okay right now we're trackin' direct
to the Talladega VOR.
0844:45
INT-2 that's correct.
0844:51
INT-2 there's our area of weather --- so ---.
0845:00
INT-2 five hundred to go.
0845:13
INT-2 geese Louise.
0845:15
INT-1 this is fun.
0845:21
INT-1 in-range call's complete?
0845:22
INT-2 ah standby.
0845:24
INT-1 in-range checklist.
0845:25
INT-2 how much fuel?
0845:28
INT-2 how much?
0845:29
INT-1 ah you mean ah fuel?
0845:31
INT-2 how much fuel are we goin' to have?
twelve hundred?
0845:32
INT-1 in with ah twelve hundred. out with
twelve hundred.
0845:34
INT-2 okay ah ha light.
0845:50
RDO-2 Anniston Base eight sixty one.
0846:02
RDO-2 Anniston base eight sixty one assumint you can hear us but we
can't hear you. we got three people for ya, one goin' through to
Tuscaloosa twelve hundred in and out on the fuel see you in oh about oh
five minutes.
0846:25
PA-2 ah folks we're starting our descent into Anniston like to ask that you double check to see if your seat belt is fa3tened for landing at this time and any carry-on that you may have brought with you is a stowed beneath the seat in front of you thank you.
0846:37
INT-2 okay anyway in-range is complete. basically what they didn't reply but what @ told me to do is she couldn't hear us. is these radios are so # poor that they were give that I just broadcasted in the blind and they were goin' to monitor for us but anyway station call is done cabin sign I just did. the passenger brief I got. altimeter he gave us. windshield anti-ice we donft need. crew briefing ah if we don't get the visual here in a few miles we'll do the ILS if we have to. and exteriors?
0847:12
INT-1 okay landing light's ah-.
0847:13
INT-2 there you go.
0847:14
INT-1 comin' on just turn them on and taxi.
0847:17
INT-2 okay. Taxi won't do you any good until the gear comes down.
0847:20
INT-1 that's okay. it's on.
0847:21
INT-2 no problem.
0847:26
INT-1 I didn't know that though.
0847:29
INT-1 and let's see.
0847:32
INT-1 and ah you've got everything set up
that you can except the localizer
frequency right.
0847:36
INT-2 yeah for you and I'll get ler in there
for you.
0847:38
INT-1 and in-bound course is?
0847:39
INT-2 ah I'll set it with my heading bug but
I believe it's ah zero four nine so.
0847:45
INT-1 zero four nine inbound.
0847:46
INT-2 I'll just
0847:46
APP Regional express eight sixty one the new Anniston weather seven hundred
scattered estimated ceiling one thousand five hundred broken niner
thousand overcast three miles fog and haze. the seven hundred foot
layer is ah scattered variable to broken appears to be breaking up.
the wind is zero niner zero at five altimeter three zero zero six
0848:05
RDO-2 eight sixty one thank ya.
0848:09
HOT-2 you want-.
0848:10
INT-2 you want to go around for the ILS?
084 8: 10
APP and a eight sixty one proceed direct Bogga maintain four thousand
'til Bogga cleared localizer run- er
ILS runway five approach.
0848:19
INT-1 *
0848:19
RDO-2 direct direct to Bogga four thousand and cleared for the ILS runway five.
eight sixty one thank you
0848:23
INT-1 ask him distance from
0848:26
INT-2 from Bogga?
0848:27
INT-1 that's okay I'll just.
0848:28
INT-2 we're ah. minus six point one. we're five miles from Bogga.
0848:31
INT-2 go ahead and slow on up.
0848:37
INT-2 there you go keep the shiny side up.
0848:39
INT-1 ah
0848:40
INT-2 there you go should have moved your heading bug here you go I'll get you
set in here.
0848:44
INT-1 okay let's go approach flaps.
0848:46
INT-2 speed checks comint now.
0848:49
INT-2 didn't realize that your going to get this much on your first day did ya.
084 8: 51
CAM ((sound of trim-in-motion beep))
0848:53
INT-1 well it's all kind of ganged up here
on me a little fast.
0849:02
INT-1 got the localizer in?
0849:03
INT-2 workin' on it.
0849:06
INT-1 think we're goin' to go through it.
0849:08
INT-2 ah I'm goin' to kill somebody about
these radios I can't get your frequency
set.
0849:20
INT-2 there you go.
0849:21
INT-1 yup went through it.
0849 : 2 4
INT-2 can you go around for it?
0849:26
INT-1 I bet you. I think we're right over
the outer-.
0849:28
INT-2 we're right over Bogga. He kept us in
real tight I mean God we're - we're
four and a half out that was uncalled
for go ahead and drop your gear speed
checks.
0849:43
INT-1 glide slope isn't even alive.
0850:00
INT-1 what's the minimum altitude I can
descend to 'til I'm established?
0850:03
INT-2 'til established. twenty two hundred.
0850:06
APP Regional express eight sixty one that ah weathers south of ah a
Bogga is moving northbound and the leading edge appears to be about two
miles southwest of Bogga.
0850:18
RDO-2 eight sixty one thank you very much we're out of four thousand for the
localizer at this time and we're inside of Bogga.
0850:23
APP yes sir and advise procedure turn inbound.
0850:28
RDO-2 ah procedure turn inbound complete.
0850:41
INT-2 okay here it comes.
0850:46
INT-2 I'm thinkin'.
0850:53
INT-1 ah we gotta go missed on this.
0850:55
INT-2 just a minute - there you go - there
your gunnal shoot right through it
again - there you go see.
0851:08
INT-2 that's why I was kindal wonderin' you
know hay.
0851:12
INT-2 okay we gettint in close keep 'er
goin'.
0851:16
INT-2 you're okay.
0851:17
INT-1 hopin' no one on here's a pilot.
0851:20
INT-2 well one guy got on with a helmet bag.
0851:23
INT-2 okay there you go. roll out. you're
kosher.
0851:26
INT-2 see you you had about a ninety degree
intercept there I was kindal like whoa.
0851:30
INT-2 through twenty two we're
0851:31
INT-1 okay we're on our way.
0851:33
INT-1 there's the glide slope.
0851:34
INT-2 okay watch your airspeed. one fifteen
on the airspeed.
0851:36
INT-2 we're inside- through twenty two we
can continue our descent on down.
we're way high.
0851:43
INT-1 okay is the glide slope working?
0851:45
INT-2 nope I'm not gettin' any.
0851:48
INT-2 so with no glide slope, we're down to
eleven hundred.
0851:50
INT-1 you got your right frequency in there?
0851:51
INT-2 five hundred - one eleven five double
check yup.
0852:13
INT-1 what's our missed approach point now?
0852:15
INT-2 missed approach at the middle marker
ah-.
0852:20
INT-2 eleven hundred but we need to add a
hundred so twelve hundred.
0852:24
INT-2 comin' up.
0852:25
CAM ((sound of impact))
0852:25.5
end of recording