Lockheed HC-130P Hercules, registration 64-14856, crashed into sea following fuel starvation off the coast of Cape Mendocino, CA, USA.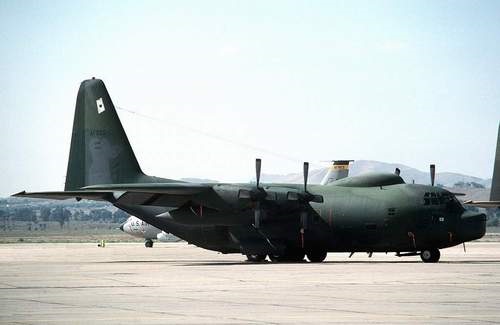 This is a photo of the actual accident aircraft.
---
Transcript of the Cockpit Voice Recorder (CVR)
MP-MISHAP PILOT
MIP-MISHAP INSTRUCTOR PILOT
MN-MISHAP NAVIGATOR
MF-MISHAP FLIGHT ENGINEER
MLI-MISHAP LOADMASTER I
OAK- OAKLAND CENTER


1843:45 MF- WE'VE GOT A PRETTY GOOD TORQUE FLUX ON NUMBER 1
1843:48 MIP- OH YEAH
1843:51 MP- IT'S OFF AUTOPILOT...WHAT'S GOING ON HERE
1843:53 MP- NUMBER ONE
1843:54 MF- NUMBER ONE TIT IS GOING TO SHIT, FUEL FLOW JUST WENT TO SHIT
1844:02 MF- THAT SHOWS
1844:03 MP- BOTH OF THESE
1844:03 MF- THEY'RE ALL GOING TO SHIT
1844:07 MP- WE'VE GOT SOME KIND OF A BLEED AIR OR A AH...AC PROBLEM...EVEN THE TORQUES ARE GOING CRAZY ON IT
1844:12 MIP-ARE YOU HAND FLYING
1844:13 MP- YEAH
1844:14 MIP- ARE YOU FEELING THAT KIND OF YAW YOU'RE SEEING THERE
1844:16 MP- LOOK IT'S ALREADY GONE TO ZERO
1844:18 MIP- THERE GOES NUMBER FOUR
1844:19 MP- THEY'RE ALL GOING
1844:22 MP- YEAH, I'M FEELING IT
1844:23 MF- YEAH
1844:28 MF- LET'S GO TO MECHANICAL ON NUMBER ONE
1844:31 MP- LET'S GO ON ALL FOUR
1844:31 MIP- NUMBER ONE'S MECHANICAL
1844:33 MIP-YEAH, YOU'RE LOSING RPM
1844:34 MF- YOU'RE LOSING RPM ON NUMBER ONE
1844-38 MP- YEAH, LET'S GET CONDITION LEVER FEATHER
1844:39 MIP- YOU READY
1844:40 MP- YEAH, ONE
1844:41 (?)- SHUTTING DOWN
1844:42 MP- FIRE HANDLE NUMBER ONE...PULLED
1844:44 MIP- NUMBER ONE
1844:48 MLl- IT'S STANDING TALL
1844:49 MP- OK
1844:51 MP- OK, LET'S GO THROUGH THE SHUTDOWN CHECKLIST
1844:53 MIP- THE CONDITION LEVER WAS FEATHERED...FIRE HANDLE WAS PULLED
1844:53 (?)- AH, WHAT...
1844:54 MF- NUMBER TWO' S GOING
1844:58 MP- THIS ISN'T RIGHT
1845:00 MIP- WHAT THE FUCK'S GOING ON HERE?
1845:02 MF- WE'VE LOST FUEL FLOW ON AH NUMBER TWO
1845:05 MP- IT'S STILL GOING THOUGH, ISN'T IT
1845:07 MIP- HEY, LET'S START HEADING BACK TOWARDS THE COAST HERE
1845:08 MF- YEAH
1845:11 MIP- SEATTLE CE, OAKLAND CENTER, KING 56
1845:18 OAK- KING 56, GO AHEAD
1845:22 MIP- KING 56 (MP- DESCEND A LITTLE BIT) WOULD LIKE TO DECLARE AN EMERGENCY AT THIS TIME. IMMEDIATELY REVERSE COURSE BACK TOWARDS COAST. WE'VE SHUT DOWN NUMBER ONE ENGINE AND LOOKS LIKE WE MAY BE LOSING NUMBER TWO.
1845:30 MIP- ELEVEN SOULS ON BOARD
1845:31 MF- YEAH
1845:32 MP- OK, LET'S GET READY TO SHUT DOWN NUMBER TWO
1845:32 OAK- KING 56...AH... WHERE DO YOU WANT TO GO
1845:39 MIP- YEAH, WE'D LIKE TO AH...
1845:40 MP- NEAREST BASE
1845:41 MF- ANYWHERE
1845:43 MIP- ISN'T THAT KINGSLEY PROBABLY THE NEAREST
1845:43 MP- YEAH
1845:44 MN- KINGSLEY, YES, KINGSLEY
1845:45 MIP- YEAH, HOW ABOUT KINGSLEY FIELD FOR RIGHT NOW FOR KING 56
1845:48 OAK- KING, KING 56 CLEARED TO KINGSLEY FIELD VIA DIRECT AND AH WHEN YOU GET A MINUTE PLEASE GIVE ME THE LAT LONGS FOR THAT
1845:58 MIP- WHAT, WHATS THE IDENTIFIER FOR THAT
1845:59 (?)- FOR KINGSLEY
1846:00 MP- FOR AH
1846:01 MF- KLMT
1846:03 MIP- AND THE IDENTIFIER FOR THAT IS KILO LIMA MIKE TANGO FOR AH KING 56
1846:10 OAK- KING 56 ROGER SAY YOUR REQUESTED ALTITUDE
1846:14 MIP- AH WE'LL HAVE TO GET BACK TO YOU ON THAT AH WE MAY HAVE TO DRIFT DOWN HERE
1846: 17 OAK- ROGER
1846:18 MP- OK, I THINK WE GOT AN ELECTRICAL PROBLEM GUYS
1846:21 MF- RIGHT RIGHT WE'RE LOSING...LOSING POWER ON NUMBER AH THREE TOO
1846:23 MP- NO
1846:24 MF- ER AH NUMBER FOUR
1846:25 MIP- OK REAL QUICK ON THE NUMBER ONE CHECKLIST HERE AH AGENT WAS NOT REQUIRED THE FLAPS ARE UP THE GEARS UP AND WE'RE STANDING BY ON THE CLEANUP...6 SECONDS TO SIDE TONE