As the aircraft, an Air France B737-300 with registration F-GRFA, taxied to lign up, ATC gave the clearance for take-off. The captain pushed the thrust-levers forward, and activated the auto-throttles. From the start of the acceleration, the aircraft made a swing to the right that the first-officer could not counter with the rudder.
The captain reduced the thrust on the left-engine, which made the aircraft swing to the left of the centerline. The captain made another opposing movement with the thrust-levers in order to line up the aircraft again but it was already stuck in the mud on the left-hand side of the runway.
The passengers left the aircraft safely by means of steps which were brought along by the ground service staff.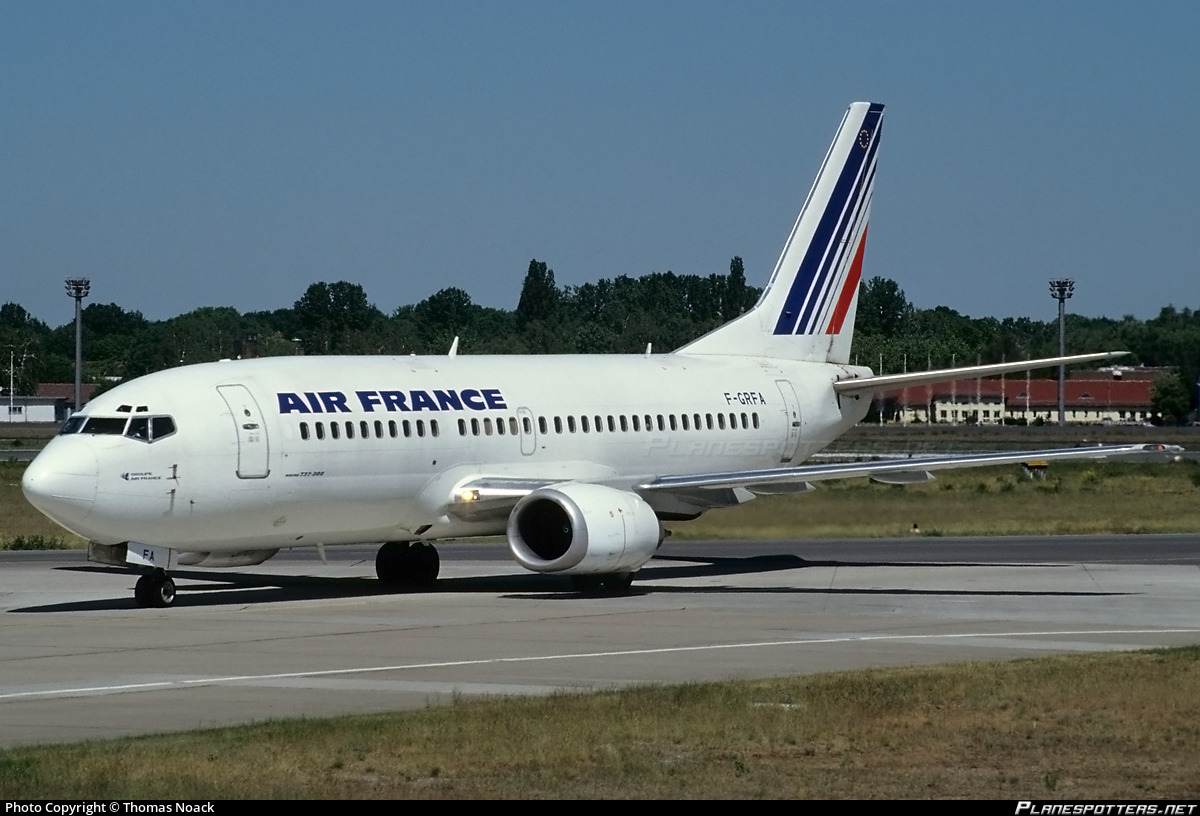 ---
Transcript of the Cockpit Voice Recorder (CVR)
Cap = Captain
FO = First Officer
ATC = Air Traffic Control
AM = Area Microphone
>> = communications directed to ATC
(*) = unknown words
09:13:50 ATC Air France thirteen thirty-six, runway twenty-six right, three hundred thirty degrees ten knots, cleared take-off
09:13:55 Cap >> we're taking-off 26 right, AF 1336
AM (VS) TCAS system test okay
09:13:59 FO so, euh good
09:14:00 Cap so, we are ready for take-off
09:14:02 FO yeah
09:14:03 FO you finished the checklist or not
Cap (*)
09:14:05 Cap yeah, master warning panel
09:14:06 FO yeah
Cap (*) TCAS
09:14:07 FO yeah
09:14:08 FO but (*)
09:14:10 FO we are ready and cleared
09:14:13 Cap (*) arm and (*) T O we have consumed 20 kilos
09:14:16 FO yeah
09:14:17 Cap (*)
09:14:18 FO well, we do not stop
09:14:20 Cap no, we do not stop, it's good
09:14:27 AM change of engine speed
09:14:30 FO (*)
Cap (*) set
09:14:32.00 AM 'rubbing' noise
09:14:32.12 AM 'rubbing' noise stops
09:14:32.18 FO rolling
09:14:33.09 AM noise of impact and 'rubbing'
09:14:33.19 AM noise similar to slamming of throttles
09:14:35.18 AM end of 'rubbing' noise
09:14:36.03 FO (*)
09:14:36.15 AM noise of selectors movement (1.4 sec)
09:14:37.10 Cap (*)
09:14:39.00 AM increasing engine noise
09:14:41.02 AM end of increasing engine noise
09:14:41.18 AM very strong 'rubbing' noise
09:14:44.04 AM end of 'rubbing noise
09:14:4413 AM impact
09:14:45.09 AM vibrations that could correspond to leaving runway
09:14:47.00 FO hey shit
09:14:47.20 AM noise similar to slamming throttles
09:14:48.05 AM end of vibrations and engine noise decreasing
09:14:48.13 AM noise similar to slamming throttles
09:14:51.00 AM end of engine noise
09:14:52.16 FO (*)
09:14:53.07 Cap (*)
AM 'rotating' noise
09:14:56.20 FO (*)
09:15:00.00 FO (*)
Cap it's cut
09:15:01.04 Cap >> Mayday Mayday Mayday, AF 1336 we are on the runway
AM selectors noise
09:15:02 AM end of 'rotating' noise
09:15:03 AM selectors noise
09:15:04 ATC we have seen, the fire-crews are arriving
AM selector noise
End of recording
© Copyright tailstrike.com